Cut-To-Length / Slitting Lines
Trim shop efficiency and throughput goals can be achieved with the help of an ASC Cut-To-Length / Slitting Line.
These stand-alone systems allow customers to run their panel lines continuously without taking time away to cut or slit trim blanks.
Material costs are reduced because customers can purchase coiled steel in standard widths. There is no need to use a third-party service to slit coil to width or cut sheets to length for trim production.
​
ASC offers the following three Cut-to-Length Slitting Lines:
On the ALPHA SERIES the slitting pass is located behind our new electro-mechanical Shear (in direction of flow). The Slitter pass on the Advantage and Select Series are located behind a hydraulic shear (in direction of flow).
ASC also offers custom build Flat Sheet Stacking Systems with side transfer soltution which can be incorporated into any new or existing Cut-to-Length Slitting line.
Give us a call so we can discuss your needs and we will offer you the best product line to meet your budget. Add value to your trim shop with an ASC Cut-to-Length / Slitting Line.
Select Series CTL/Slit Line
with Flat Sheet Stacking System
Alpha Series
Uncoiler with coil car - Slitting Line
Alpha Series Slitting Line
Electro-Mechanical Shear
Alpha Series Cut-to-length Slitting Line
Eletreco-Mechanical Shear and Slitter Pass with Cast Stands and up to 9 sets of knives (5 Standard)
Advantage Cut-to-Length and Slitting Lin
Cut-to-Length and Slitting Line for Flat Sheets and Trim Blanks
Advantage Cut-to-Length and Slitting Lin
Advantage Cut-to-Length and Slitting Lin
Advantage Cut-to-Length and Slitting Lin
Slitter Pass with Cast Stands and up to 9 sets of knives (5 Standard)
Advantage Cut-to-Length and Slitting Lin
Slitter Pass with up to 9 sets of knives (5 Standard)
Advantage Cut-to-Length and Slitting Lin
Measuring tape for easy set up
Advantage Cut-to-Length and Slitting Lin
Advantage Cut-to-Length and Slitting Lin
ASC ADVANTAGE SERIES
Cut-to-Length and Slitting Line for Flat Sheets and Trim Blanks
ASC ADVANTAGE SERIES
CUT TO LENGTH SLITTING LINES WITH OPTIONAL COIL CAR
ASC ADVANTAGE SERIES
UNCOILER WITH OPTIONAL COIL CAR
ASC ADVANTAGE SERIES
Cut-to-Length and Slitting Line for Flat Sheets and Trim Blanks
ASC ADVANTAGE SERIES
PRE CUT FRONT END WITH SLITTER PASS
ASC ADVANTAGE SERIES
CAST STAND - SLITTER PASS
ASC ADVANTAGE SERIES
Cut-to-Length and Slitting Line for Flat Sheets and Trim Blanks
ASC ADVANTAGE SERIES
Slitter Pass with Cast Stands and up to 9 sets of knives (5 Standard)
ASC MULTI BATCH CONTROLLER
Red Lion Touchscreen Controller
SELECT SERIES
CUT TO LENGTH SLITTING LINES WITH OPTIONAL COIL CAR
SELECT SERIES
CUT TO LENGTH SLITTING LINES WITH OPTIONAL COIL CAR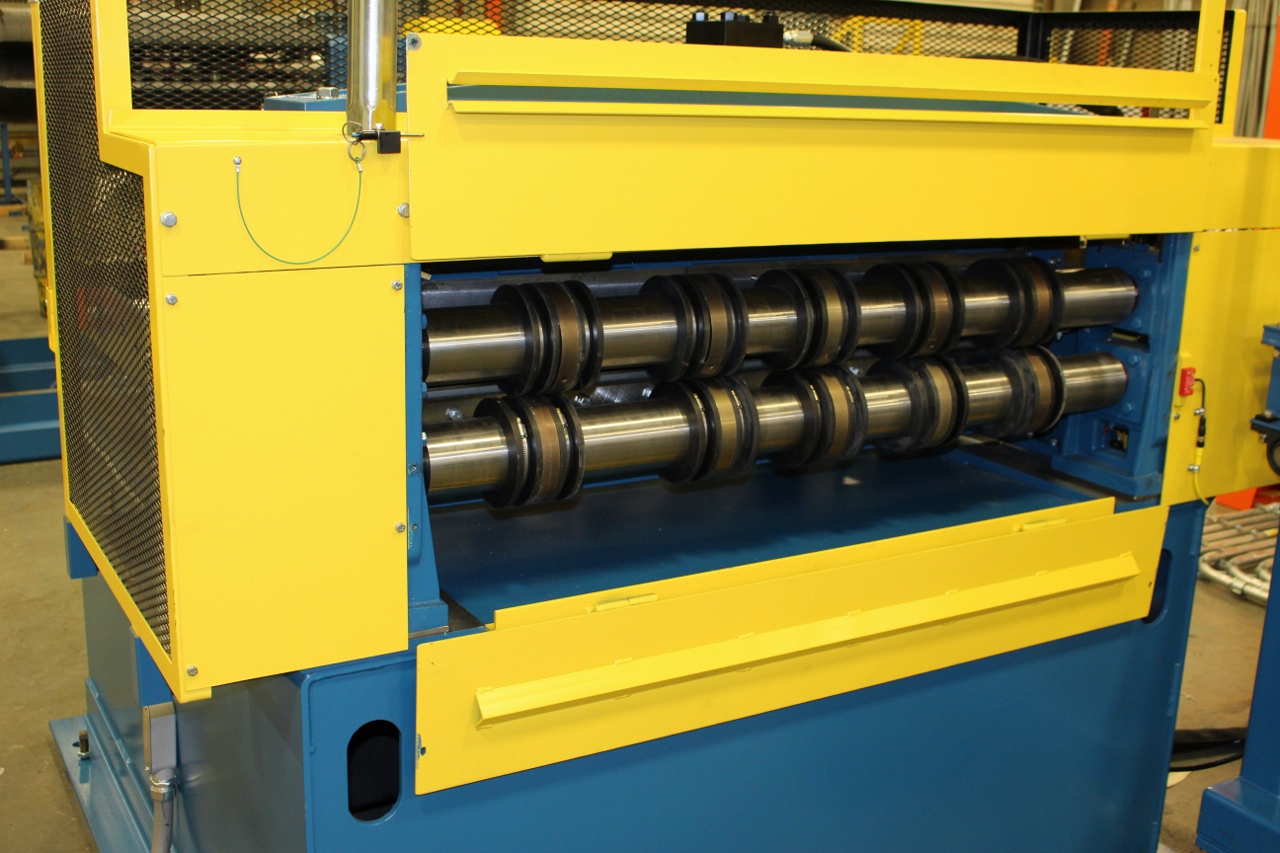 SELECT SERIES
SLITTER PASS
SELECT SERIES
SLITTER PASS
SELECT CTL-SLITTING LINE (6) (640x427)
MOVABLE CONVEYOR FOR FLAT SHEET / TRIM BLANK PRODUCTION
SELECT SERIES
MOVABLE CONVEYOR FOR FLAT SHEET / TRIM BLANK PRODUCTION
Advantage Cut-to-Length and Slitting Lin
MCC Motor ControL Center
Select Series Cut-to-Length and Slitting
Select Series Cut-to-Length and Slitting
Select Series Cut-to-Length and Slitting
Slitter Pass with Cast Stands and up to 9 sets of knives (5 Standard)
Select Series Cut-to-Length and Slitting
6 Ton Hydraulic Shear
FEATURES & OPTIONS:
​
- 10 or 20K Single Arm Uncoiler with powered pay off
- Coil car available as option
- Individual entry guide setup for accurate feed-in
​
- Slitter Pass with (5) sets of slitting knives (standard)
- Additional knives can be added (max 9 sets)
​
-- Up to 20,22 or 24 -gauge steel capacity depending on product line
- All cut to length / slitting lines use standard parts found on ASC rollforming equipment
- No special foundation required